The fans of popular Australian "5 Seconds of Summer" rock group adore lead vocalist and guitarist Luke Hemmings. Luke has almost "model" parameters –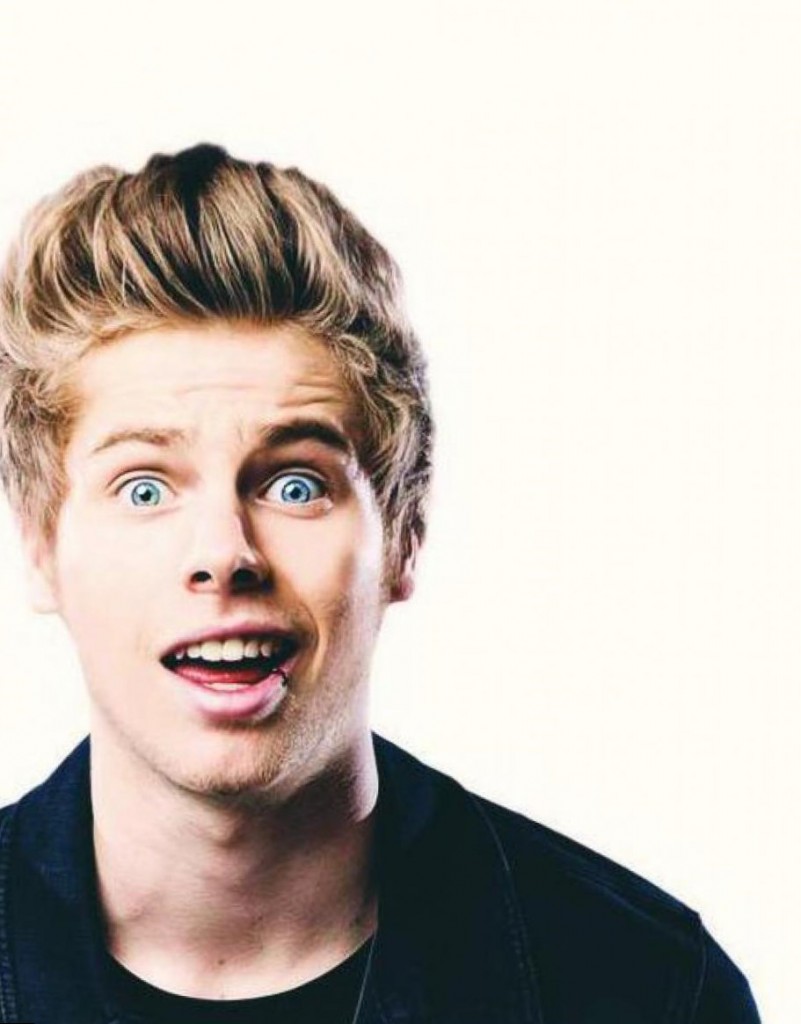 Height:
185+ cm
Weight:
70-73 kg
Age:
18 (19 soon)
Luke Robert Hemmings (his full name) is a very handsome young man. His fans call Luke Australian God sometimes – blonde, with sky blue eyes, he has become a dream of many girls. And most of them are interested in one question only – if Luke Hemmings has a girlfriend. Not yet, but as the singer and musician confessed once, Luke Hemmings' girlfriend will be someone from his fans…two years younger than he is. Recently he was about 183 cm, sometimes he says he is 185 cm. Those lovers of the guy's talent who are interested how tall is Luke Hemmings, might not get the answer. Luke is in the age when young gentlemen grow very fast. Today everybody can suggest he will be one of the tallest artists and singers. Soon the star from Australia is 19 – Luke Hemmings birthday is on July, 16, 1996.
Yes, the idol of many young girls will be only 19, but he has already made everything to be called "a star" . He started his career (as many modern singers today) from songs downloaded to Youtube in 2011. In 2012 he performed with 5 Seconds of Summer (The 5SOS) – Australian group. Besides Luke there are 3 more talented guys in the group – Michael Clifford (vocal and guitar), Calum Hood (vocal and bass guitar), and Ashton Irwin (vocal and drums). The first mini-album of the 5SOS was called Unplugged.
The same year The 5SOS was working with Amy Meredith. They released two songs – "Beside You" и "Unpredictable" which came into the second album Somewhere New. Close to Christmas days of 2012 the group went to London where they worked together with popular Busted, Kaiser Chiefs, McFly and Scouting for Girls. Next, 2013 year started for Luke and the other members of The 5SOS with really exciting news – the group was going into a world Take Me Home Tour together with a boys band " One Direction"! They started their performances in London in February, 2013 and ended their concerts on their motherland, in Australian, Melburn. Next year (2014) 5SOS and One Direction joined again, supporting them on their 2014 for the Where We Are Tour in the USA, United Kingdon, Canada and Europe. Spring 2014, the She Looks So Perfect song was on the second line of the Billboard 200. The year of 2014 was tough – Luke worked hard writing down new songs and giving concerts. Today they still work and perform with One Direction. On The Road Again Tour has started (as usual, in February, 2015). Following their good tradition, they plan to end the tour in October, 2015 in Australia.
| | |
| --- | --- |
| | |
Luke Hemmings is one of these young people who has proved that the new generation is no more interested in "sex, drugs and rock-n-roll" only. He has chosen Art – music. No drugs, no girl (yet…), only pop and punk rock. Here are some curious things about Luke which will be interesting not only to his fans.
• Luke has 2 brothers – Ben and Jack
• The name of his dog is Molly
• Luke is a fan of Sutherland Sharks Kronalla Rugby team
• One of Luke's favorite shows is "How I Met Your Mother"
• The perfect date for Luke is a to walk along the beach and to eat Cold Rock ice cream
• Luke never watched the movie "Titanic"
• Luke's mother is a math teacher
• Luke says that sweets from fans are more tasty than those which he buys himself
• His favorite singer is Josh Ramsay
• His favorite movie is "Anchor Man"
• Luke loves ice-cream with cookies and cream
• Luke always eats a lot and stays constantly hungry
• His favorite color is blue
• Luke's favorite animal is Penguin
• Luke loves ham and cheese
• Luke's mom says that he always loses something
• He lost his iPhone in Melbourne after the tour, and all the boys teased him when he was with the old Nokia
• Luke is excellent in snowboarding
• Luke likes movies "17 Again" and "Monsters, Inc."
• Luke loves hot fried potatoes
• His favourite number is 7
• He said he would like to meet a girl who is 2 years younger
• Last time he had long lasting relationship with Aleisha McDonald
• Pepperoni is his favorite pizza
• Luke went to school early
• Luke is very nervous before any performance
• Luke is the tallest of the guys in the group
• Luc is sure: pizza is the best food
• He loves when somebody tickles his neck
• Luke loves skateboarding
Getting To Know 5 Seconds Of Summer Part 3: Luke Hemmings
5SOS – Luke's Love Interest