Date of birth: December 17, 1978 (Age: 37 years)
Height: 5′ 5″ (166 cm)
Weight: 154 pounds (70 kg)

Manny Pacquiao body measurements:
Waist: 32″ (81 cm)
Chest: 41″ (104 cm)
Biceps: 15″ (38 cm)
Shoe size: 9 (US) / 42 (EU)
Hair color: Black
Eye color: Dark brown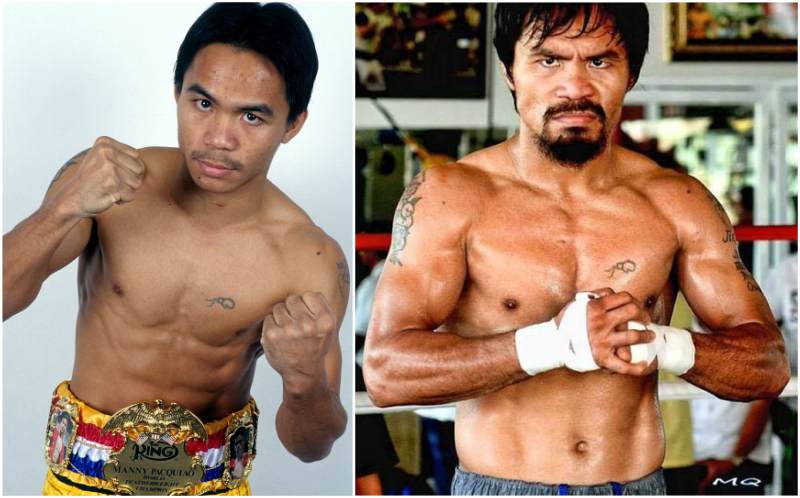 One of the most famous and effective fighters that have appeared in the spotlight in recent years is Manny Pacquiao. We enthusiastically watch this dangerous and strong, but at the same time versatile fighter, and just a nice guy from the Philippines.
However, without good physical shape, Pacquiao would not be who he is now. Almost all of his fights have been won thanks to the fact that he was superior to rivals in the mobility, power punches and physical condition. The famous commentator Larry Merchant had even called him a "perpetual motion machine". What helps Manny to be in such good shape? We provide a detailed review of his training.
Speaking of Manny Pacquiao's training, it is also necessary to mention some more people, thanks to the efforts of whom, Manny became such an outstanding boxer. They are trainer Freddie Roach and fitness coach Alex Ariza, who left the team, but he did colossal work with Manny, and therefore deserves to be mentioned, even now.
Usually preparation for a fight takes 8 weeks. The reason for such a period preparation is to prevent overtraining and exhaustion, because Manny is training with incredible intensity.
When Pacquiao arrives at training camp, he is already in fairly good physical shape, because he plays a lot of basketball, which helps to improve coordination and agility, while developing endurance. He also leads an active and healthy lifestyle, which also helps him maintain a good shape.
The basic structure of the Pacquiao's training mode does not change much from fight to fight – exercises and their features may vary slightly depending on the opponent he is going to face. Ariza, who is responsible for the strength and physical training, usually focuses on what Freddie wants to achieve from Manny.
Manny gets up at 5 a.m. to jog. After that follows warming-up.
Ariza applies training- interval mode – 20 seconds of exercises and then 10 seconds of rest to recover energy.
Sometimes they do the same exercise on the hills, sometimes on the beach or in the park, sometimes swim in the pool. At the end of the session they do a bit of plyometric, exercises on the stairs and stretching. Then, take some food with enough carbohydrate to raise insulin levels, which improves recovery. Afterwards, Manny takes protein and goes home to rest before the afternoon training session.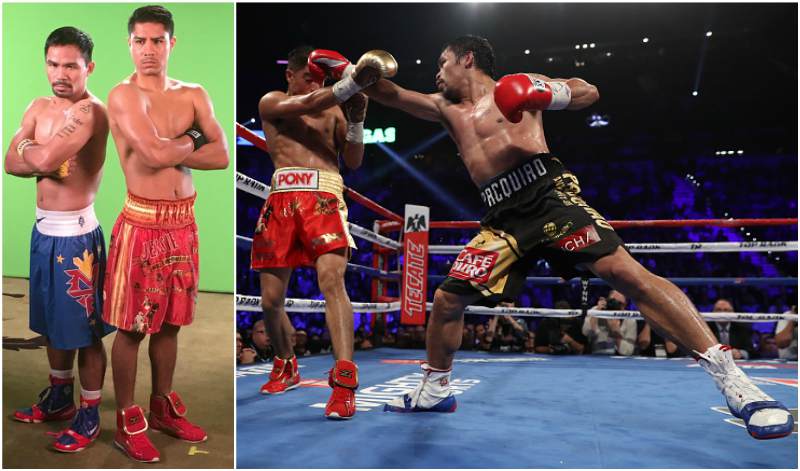 Training begins in the afternoon with a good warm-up (including dynamic and static stretching) and shadow boxing. After that, Ariza makes Manny perform various plyometric exercises with weights, madball, and expanders.
All exercises designed by Ariza, are characteristic of the box, and their main goal is the improvement of strength, explosive speed and sharpness.
After that, Manny and Freddie go in the ring and for a few rounds they do boxing with honing movement, combination and practicing the preliminary plans for a fight with those who Pacquiao will fight. After finishing boxing, there go exercises with pneumatic punching bag for a few rounds. Then, for 10-15 minutes – skipping rope followed by a good series of stretching.
It is also necessary to touch upon nutrition. In the first 4 weeks of training camp, Manny diet contains 7000 calories per day, a little closer to the battle the diets exclude certain things. Before going to bed, he takes a protein shake, and drinks it at 3 o'clock in the morning and the next one – immediately after rise in the morning. During the day Manny has 6 meals and 6 protein shakes.