Dog Ms Hud (Labrador-Chow mix) – died in 2005 aged 12
Dog Foxy – since 2006
Dog BJ
Dog Bigi
Matthew has always loved animals and despised mistreatment.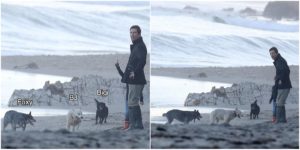 He thinks people should pay more attention to how they relate to our younger brothers, and set an example for children.
Once, the actor was walking around LA and saw how the company of strong guys mocked a cat. Their plans were obviously awful, a fire was burning nearby. Matthew was in a terrible rage. Firstly, the shock does not even allow realizing what to tell them. But, after taking the poor cat he had a serious talk with the guys. The poor creature has brought to the shelter.
For a long time (for 12 years) Matthew had a dog Labrador named Ms Hud. But she died in 2005 from cancer. It was a terrible shock.
For a long time he did not want to look for a "replacement", as Matthew was very worried. But then he decided that Miss Hud, nevertheless, had a good life with him and his family. So Matthew gave a shelter for a new dog – Foxy. And then for the second dog, whose name Bigi. She accompanies Matthew while training and jogging. Bigi is a true friend.
The dogs' style and daily life depends on Matthew's schedule. Usually he wakes up and goes for a run with his dogs. There they train surfing. He has not taught his "pupils" to stand on the board, but it's still in plans. They just stay on the beach and wait for his wife to drive up the children. Then the family walks together, builds sandcastles and plays sports.
Matthew is a fan of fitness and he believes that a healthy lifestyle is the correct position of every person on the Earth. And of course, a dog in this case is his best companion. The actor considers them as equal members of his family.
Camilla, Matthew's wife loves their dogs as well, but her time for them is not enough. She has three children and Matthew. Therefore, the duty to take care of Foxy and Bigi is on Matthew. Though, he doesn't mind.
He goes with the dogs to grooming salon for special training for dogs. He's trying to train them on his own, but only with the help of caring and love, otherwise it is impossible.
Matthew confesses that he cannot stand when someone yells at the dog or has a leash. It is a mistake. Friendship should start by means of a good relationship, so he thinks that if you cannot make the conditions for normal dog's life, it's better to give it to the shelter, and perhaps there the dog will find a new family.
Matthew doesn't understand people who adopt animals without thinking about what is needed for their care. They are not stuffed toys to be put in a corner and to be forgotten. No, they are living beings that can be sad or joyful and we humans have enough brains to make their lives comfortable.
Therefore, after Hurricane Katrina, Matthew realized that people and animals need help, so he joined the rescue campaign despite the fact that it was very dangerous.
The children love dogs as well; however, at the very beginning they were a bit afraid, since the dogs were larger than their size. Matthew tried his best to behave in the kids love to animals.
How did he do this?
For example, reading fairy tales, Matthew gave animal sounds and felt it was very foolish. Sometimes he even imitated a monkey.
Actually, Matthew remembers as being a child he was watching a movie about King Kong and sobbed. Sometimes he danced and showed various animals, but still among all the animals he chooses a monkey.
Matthew cooperates with public organizations in the most direct way. The dog Ms Hud was taken from a shelter. She lived with the family for 12 years, but could live less if it was just left on the street.
The average life expectancy of a pet on the street is 2 years. Matthew remembers him and Ms Hud everywhere pursued by reporters, wherever they went. And she was constantly with the actor. It is a pity that it happened to her.
When she was operated on for the first time, Matthew sent a message on Twitter. Through the prayers of the people she recovered that time. However, it was necessary to amputate her leg. But unfortunately after some time she left this world.
In general, Matthew supports the organization of "Growing up with the pets" which is an offshoot of the American animal protection organization. It informs the family about how to build strong friendly relations between children and animals as well as giving advice on animal care.