Date of birth: April 01, 1980 (Age: 36 years)
Height: 6′ 5″ (196 cm)
Weight: 242 pounds (110 kg)

Randy Orton body measurements:
Chest: 46″ (117 cm)
Waist: 33″ (84 cm)
Biceps: 16″ (41 cm)
Shoe size: 15 (US)/48 (EU)
Hair color: Dark brown
Eye color: Blue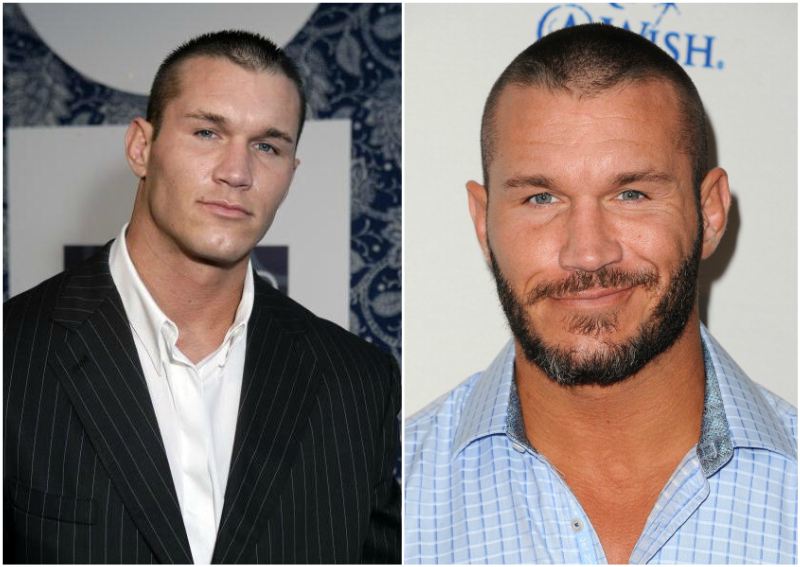 While many spectators believe that professional wrestling is absolutely a theatrical spectacle, and everyone in this sport is not real, it is worth saying that the physical form of some athletes and their body are more than real.
One of such man is Randy Orton. This WWA superstar is known to fans as The Legend Killer.
Actually, there is no special secret of toned body except for hard and persistent training. Besides, Randy was brought up in the family of professional wrestler – he is the third in the family who took up this career.
Randy Orton trains 4 times a week and for each his body part he dedicates 3 different exercises. Besides, he changes his circuit every three weeks in order to keep muscles growing as they do not get used to the load mode.
The process of training is rather simple – Randy does up to 5 sets of each exercise. The first one is a warming up and the last one is repeated till the failure.
His diet is actually quite simple. The wrestler keeps away from carbs after 8 p.m or so. As for carbohydrates, Randy eats them in limited quantities, as a rule, he mainly gets them from potatoes, oatmeal and pancakes. He tries to eat about 250 grams of protein a day. But nearly 60% of the protein intake comes from food supplements.
In his everyday life Randy Orton doesn't have a lot of interest. Listen to the group Metallica or Pantera and sometimes watch a movie, all the rest of his life is wrestling … or, as he would tell – his destiny.
Most people have childhood memories associated with playing the ball, or participation in the school play. From his childhood, among other things, Randy can also remember how he sat in the kitchen along with Roddy "Brawler" Piper and Greg "The Hammer" Valentine, repairing broken rails, which Andre the Giant leaned on. So all his life was like moving around wrestling.