Zendaya C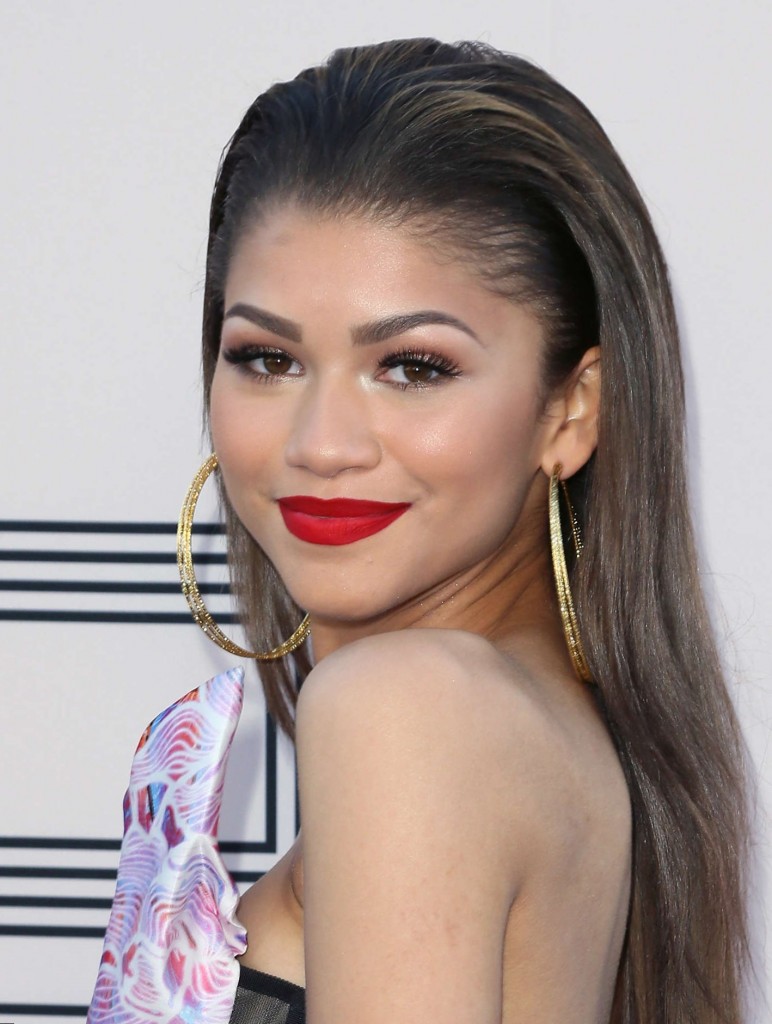 oleman is 18 only – the American girl was born in 1996, but she is alresdy a star. The hard working child (Zendaya started to perform when she was a kid) was performing as a dancer in the Future Shock Oakland group. At the same time the future small star studied in Oakland School for the Arts and at Cal Shakes (the Shakespeare Theatre in California). There she chose a Conservatory Program. The customers of Macy's and Old Navy stores remember a pretty girl demonstrating and advertising these stores' clothing.
Zendaya has a "perfect" height – 178 cm (or 5 ft 10 in). This is the best height for the girl who wants to be a model, but at the same time feels perfect on the stage, and feel comfortably wearing high heels. Zendaya always looks like a stylish girl. Since her childhood she knows that the actress and signer is a public person. Everybody is chattering about you, rumors is a usual thing as well. So – to be out of these unpleasant gossips Zendaya always demonstates us her perfect taste.
At her age, the eighteen years old girl manages to look more stylish and elegant than many popular actresses and pop singers. Although Zendaya Maree Stoermer Coleman (the full name of a singer and a star of Shake it Up and Dancing with the Stars) has less experience of posing and demonstrating herself on the Red Carpet, she does it perfectly!
One of the best looks she Zendaya Coleman demonstrated on the Red Carpet of MTV awards is a stunning black dress. A very formal cut of the dress from Emanuel Ungaro is "refreshed" with original prints of yellow roses over the black background. The beaded clutch decorated with Swarovski crystals. The glamorous pumps by Christian Louboutin match perfectly the girl's look.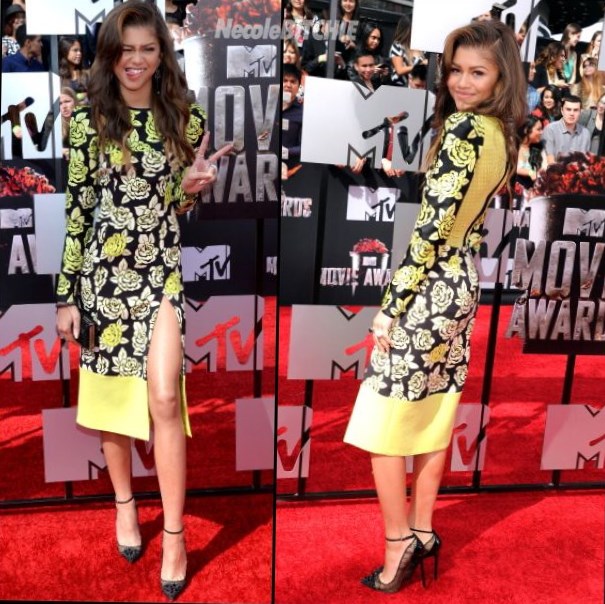 Absolutely bold and unusual is her 'leather" look. The girl demonstrates how to wear a leather coat and black and white tall boots (by Rebecca Minkoff) and stay an elegant lady and at the same time have a cheerful girlish look. Huge round glasses help her in it. Spacious large white bowler bag adds the lovely ensemble.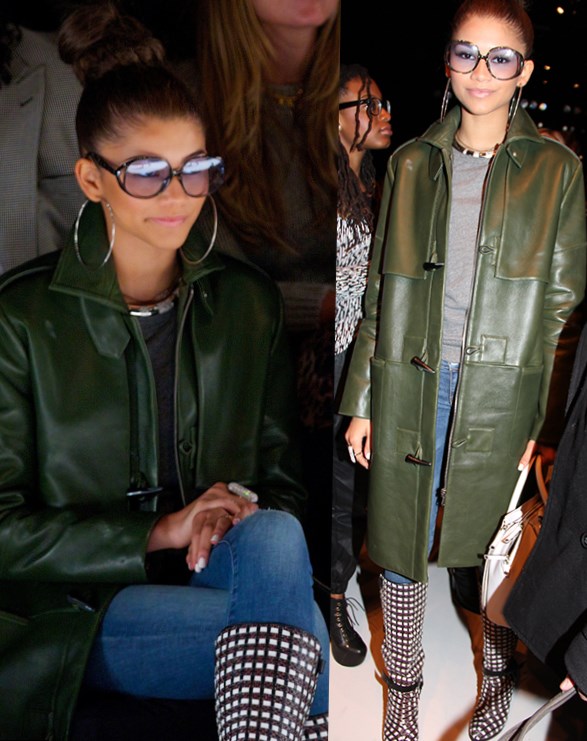 At Grammys everybody was amazed by Zendaya's "vampy" look. In this look she combined modesty and sexiness. The black shirt is buttoned and has long sleeves, but it is transparent. The shy turquoise skirt with tiny dots (by Emanuel Ungaro as a shirt as well) also has buttons, but it opens Zendaya's perfect legs.

At 2013 American Music Awards at Nokia Theatre L.A. Zendaya looked like a white angel. The white light dress cape had a free cut. The snow white trousers and white and silver shoes on high heels matched it perfectly. The numerous of silver bracelets on the left arm of the girl created a "balance" with a right shoulder opened low.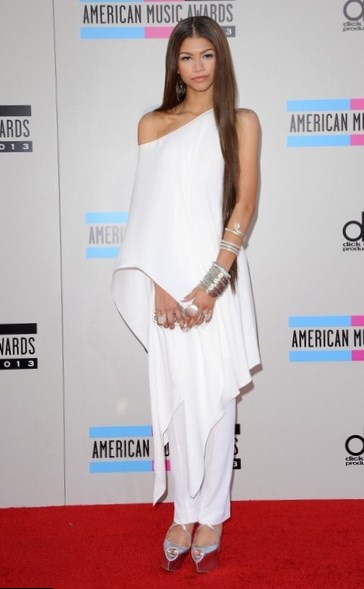 At Billboard Music Awards in Las Vegas, Nevada the young star proved by her look that even if you have tight pants and a bra on and these are the main "parts" of the clothing ensemble, you can be stylish and elegant . The funky look is mixed with the modesty of youth. Zendaya put on a pantsuit with unique abstract prints and bra top. The ensemble designer is Fausto Puglisi.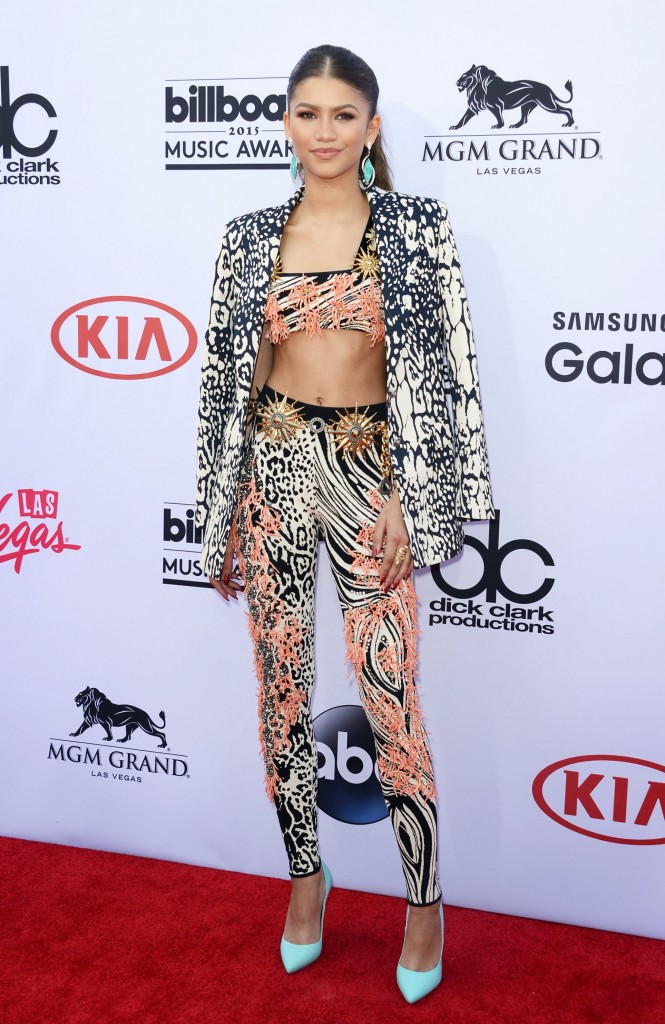 We can only admire how a young girl, a teen yet, can be always so stylish, each time demonstrating her good taste.