"Game of Thrones" drew attention of television viewers all over the globe. These series developed various themes such as a race for power, mischief making, passion, sex, scandals which are quite common for the today's society. These features made the series extremely popular. Besides, the style of hair and make up, which fuss together various epochs such as antiquit and Middle Ages, gained popularity among women all over the world. The majority of admirers take them for example.
The main stylist of these series is a real wizard of hairstyling and the creator of beauty history of the serial. The hairdresses that were made by him inspired the majority of women.
Daenerys Targaryen is a stunning character and in all the episodes she wears incredible braids. The actress Emilia Clarke, who plays the role of Daenarys is made to sit for three hours in the stylist's chair, till he creates her look. In her hairdresses one can easily notice the tribal style and it fully represents her combative mood, power and strength. The actress usually wears some variations of Dutch and lace braids and the viewers may see such a hairstyle through the series.
| | |
| --- | --- |
| | |
Cersei Lannister is the main character played by Lena Headey. She is the widow of King Robert Baratheo. The main feature of this actress is that she has the longest and beautiful hair in the series, which is considered to be the symbol of womanhood. Cersei has golden hair which was constantly waved. By the way her hair is curved constantly; it doesn't depend on what she is doing. Unfortunately such a hairdress is made not from the actresses hair, it is just a wig, but very expensive. It is necessary to say that during the shooting a wide range of wigs was used.
Another stunning hairdress had one more character, Sansa Stark. This character was played by Sophie Turner. She was only 14 at the beginning of shooting and naturally had blonde hair. Her hair was dyed into red. More often than not Sansa was with unfastened and wavy hair frequently gathered with the help of braids.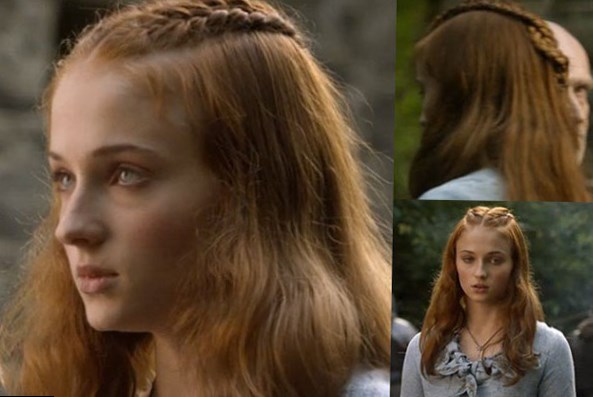 Love to power is the common feature of Sercei and Margaery Tyrell. Natalie Dormer was offered to play the role of Margaery Tyrell. This woman has more light-minded look. It is enough to have a look at her appearance and one can easily understand what means she uses in order to succeed. This character can boast by simple and demure style. She had slight volume, which made her more elegant. Her hair always was unfastened and wavy.
One more main character of this series is Ygritte, who appeared in the third season. This woman had a rare hair colour – red. Her hair was constantly uncombable but because of such a rare hair colour she was considered to be a pretty woman. Frequently this savage woman had braids in the centre of her head. This character was played by Rose Leslie.