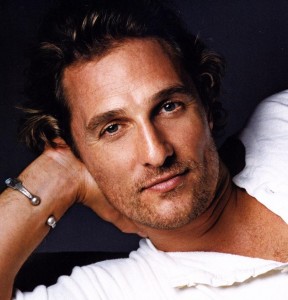 Matthew McConaughey – lady's man
Among a great number of famous Hollywood stars there is one man who is known as a  lady's man and his name is Matthew McConaughey.
McConaughey was born on November 4, 1969 in Uvalde, Texas. His parents were ordinary people. Matthew's mother was a teacher at the kindergarten and his father ran a gasoline filling station.
When he was a schoolboy he wanted to become a lawyer. However later he had changed his dream and decided to become an actor. For this reason he went to Austin to the Texas University.
Matthew began his way as an actor in 1991 when he shot in TV commercials. Sometime later he had several support roles. Among them were Angels in the Outfield, Texas Chainsaw Massacre: The Next Generation, Boys on the Side.
In 1996 he has finally got his starring role in A Time to Kill where he was a co-star together with Ashley Judd and Sandra Bullock. During only this short period of time he was dating with both of them. Ashley and Matthew dated only for several months. In A Time to Kill they played a married couple and probably they came into their characters too much so that they could not hold mutual feelings.
Love affair with Sandra was quite different. They were a very interesting couple. They had relationship for almost one year and parted their ways in 1997. They say that one of the reasons of their split up was Matthew's addiction to alcohol and the absence of serious views on family life.
The name of the next girlfriend was Salli Richardson. She is well known for roles in sci-fi movies. Tabloids didn't give up discussing their passionate romantic relationship. They began dating at the end of summer in 2000 but already in the middle of 2001 parted away. However it might to be only rumors!
Year 2002 brought new relationship with a famous and very popular singer Janet Jackson. They first met on the 2002 Grammy Awards. Later on they were seen for several times in public. They had sympathy to each other but nothing serious. Once again Matthew had no plans for a family and kids. Eventually they split up in March 2002. One more Hollywood star became a part of his life.
McConaughey dated Penelope Cruz during two years in 2005-2006. They got acquainted while they were shooting in Sahara. The reason of their farewell was very trivial. As many other artists they were very busy on their projects and simply had no time for each other.
A role in a new movie brought a new romantic story. Cassandra Hepburn was a co-star in Surfer Dude. Their relationship lasted for a short period of time in 2007 but no one knows why they broke up. The couple tried to keep their feelings in secret.
The culmination of Matthew's love stories became his acquaintance with his future wife Camila Alves. Only Camila became a tamer for a Hollywood star. They married in 2012 and had a great wedding at their house in Texas that lasted for three days. A lot of Hollywood and model business celebrities were invited. Matthew and Camila have 3 children, Levi Alves McConaughey, Vida McConaughey, and Livingston McConaughey.
Matthew McConaughey and his wife Camila Alves
Video: Camila Alves and Matthew Mcconaughey at the oscars 201