January is rich in various events, so it's a hot time for stylists ofcelebrities. The ceremony of awarding the prize of Guild of film actors took place at the Shrine Auditorium in Los Angeles, where was given awards for the best acting work in films and on TV.
Screen Actors Guild Award (SAG) which includes more than 100 thousand members, voting for nominees of the year, called the names of those who in their opinion, worthy of the prestigious award.
Jennifer Aniston and Justin Theroux, Keira Knightley, Matthew McConaughey and Camilla Alves, Reese Witherspoon, Julianne Moore, Liv Schreiber and Naomi Watts, Claire Danes Rosamund Pike, Lupita Nyongo, Emma Stone and others were shining on the red carpet ceremony.
Most of the attention was paid to Keira Knightley on the Red Carpet. The actress on the vote on Internet has become the most stylish pregnant star. This time Kira chose a lace dress plum color from Erdem. The expectant mother Keira Knightley doesn't get tired to surprise the audience stylish outputs. This time she looked amazing in a long purple Erdem dress with a high waist V–neck on the breast. Kira confirms the absolute truth again: pregnancy only adorns the woman.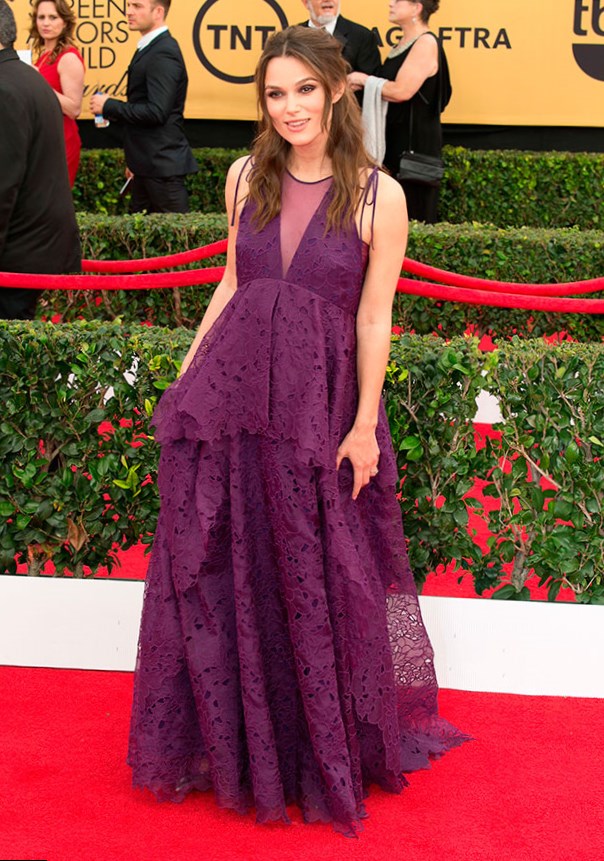 Another actress who never goes unnoticed on the Red Carpet —Lupita Nyongo. She always chooses very original outfits. On Screen Actors Guild Awards 2015, she demonstrated impeccable taste in dress Elie Saab with an abstract floral print.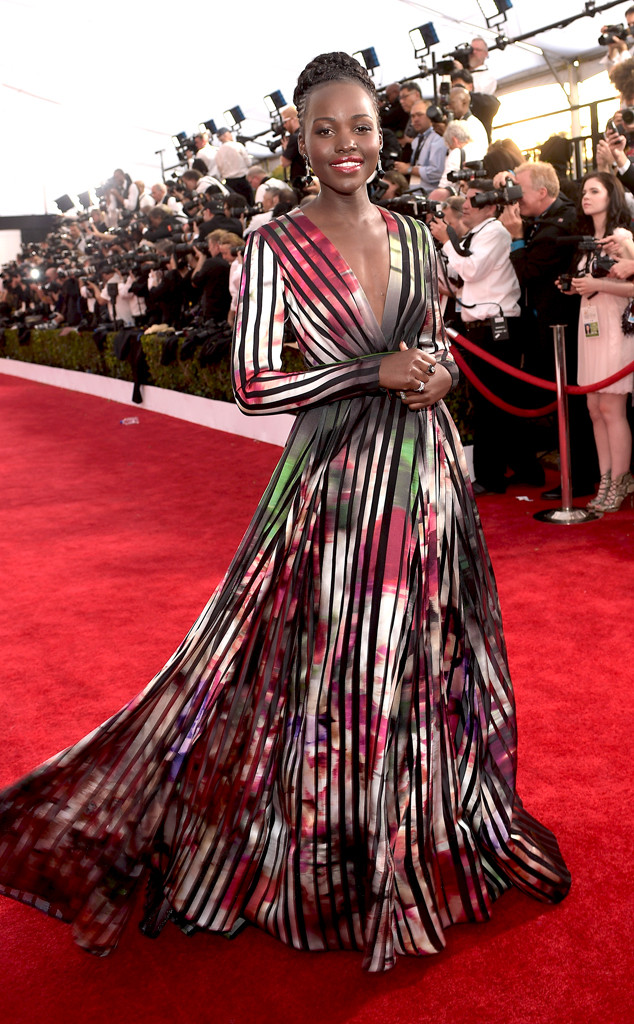 Emma Stone gave the preference to the classics this time. Everything is in order with imagination of the star of "Birdman".The strict black dress-tuxedo Christian Dior Couture stressed slender legs of the actress, and scarlet lipstick became a bright spot on the background.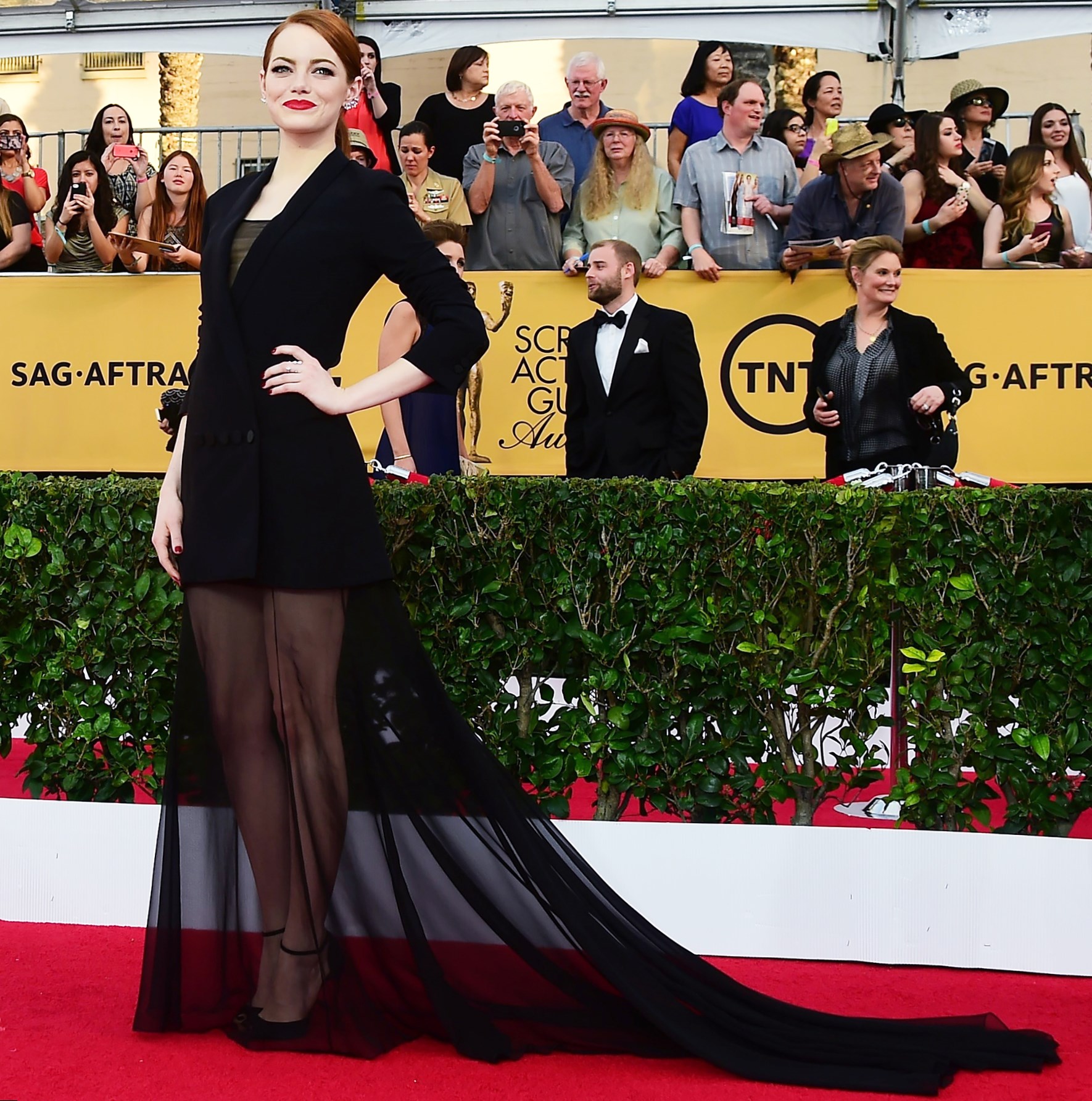 The star of "Gone Girl" Rosamund Pike chose the black dress with a trendy asymmetrical hem Christian Dior was looked on her very nicely. And it may not stressed the advantages of her figure, but the actress looked spectacular.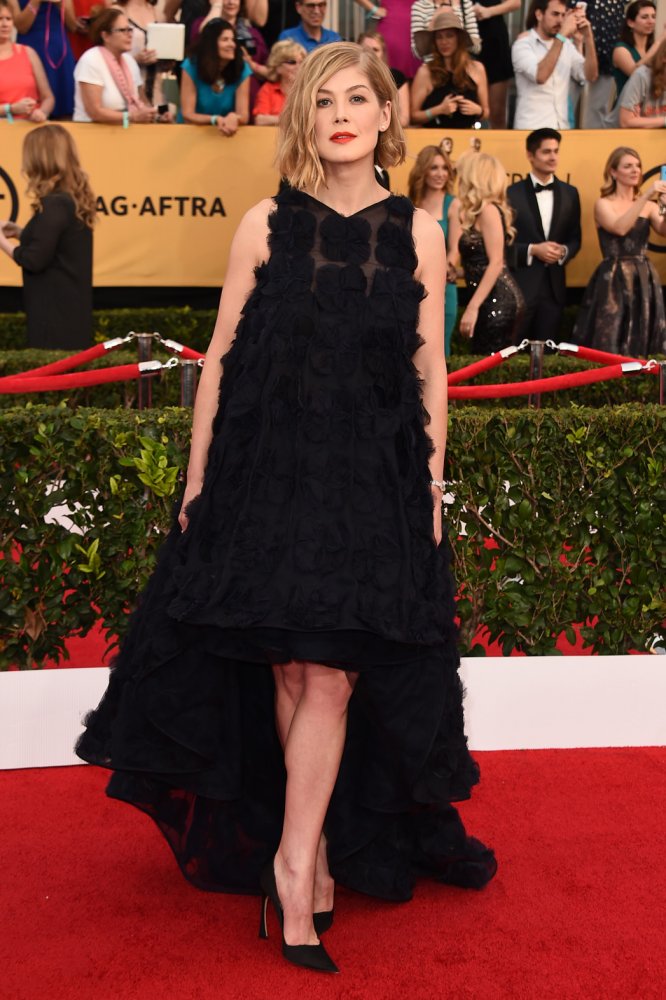 Jennifer Aniston seemed to have seriously fond of dresses with a deep neckline. Before this release, the award Critics' Choice Awards 2015, she was in a scarlet pantsuit. The actress wore on her jacket on her naked body, thus giving the image of femininity. Now she again eclipsed all with the neckline in her vintage dress John Galliano, trimmed shimmering lace, which ably complemented the exquisite jewelry of Fred Leighton. Well, Jennifer knows how to attract attention!
In the footsteps of Aniston went Julia Roberts , who appeared in a black Givenchy pantsuit on this occasion. This image might seem a little boring, if not the brand star's smile and bright Tiffany & Co jewelry.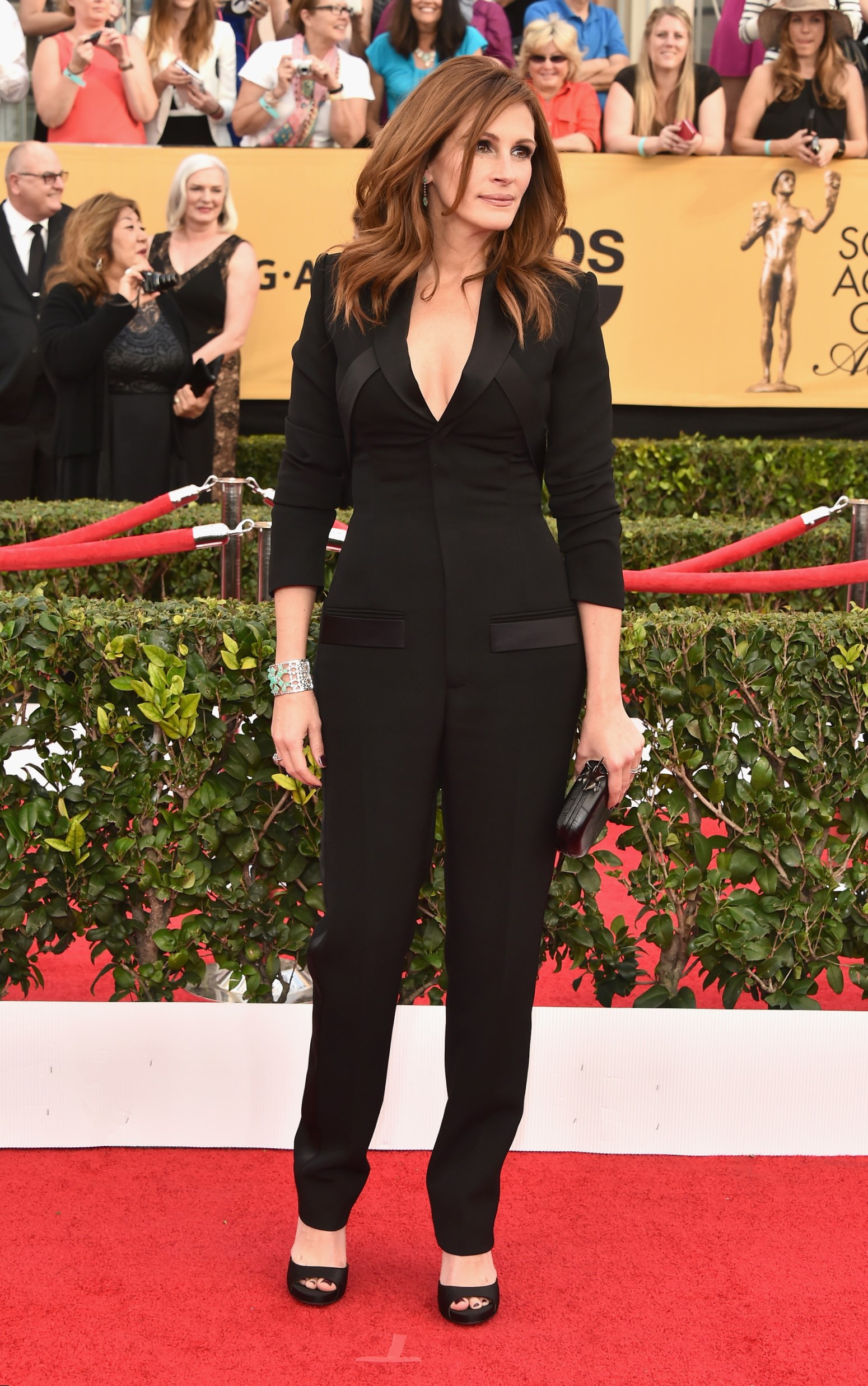 Julianne Moore took one prize after another, and her persona has always focused attention. We must pay tribute — Moore is never repeated. She has original on style and color outfit for each award. Although it should be noted that the actress loves shiny ensembles. Her green Givenchy dress was decorated with a scattering of rhinestones. It was a sleek outfit of a shade that fits red-haired women. So Moore was again on top.